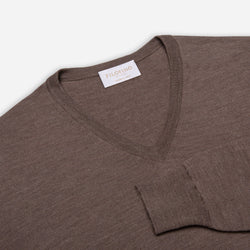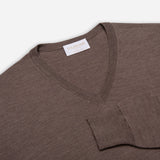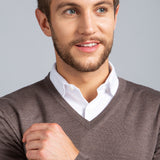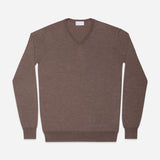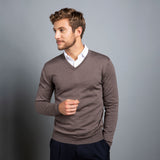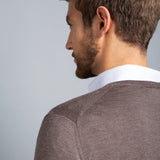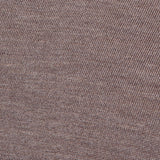 V-Neck sweater in Hazelnut
Extra fine Merino Wool - 27 Gauge
DETAILS
Refined sweater with a timeless design and a fitted, modern fit. Crafted in Umbria, Italy from 2/48 extra fine Cashwool® Merino Wool by Zegna Baruffa Lane Borgosesia, knitted in a 27 Gauge and fully hand-linked. The combination of yarn and gauge lends the garment a smooth, soft hand and ensures it wears well, looks sharp and holds its shape in time. Features a 'punta calata' fully-fashioned V-neck, which has an ever so slightly lower opening than is typical in sweaters nowadays, which flatters the wearer and works better with jackets. 
HOW TO STYLE IT
Pair it with chinos and a shirt or dressed down with jeans for a more relaxed look. With its fitted shape, fine yarn and flat seams it is ideal for layering under tailoring or a blazer. Suitable for wear all year round, thanks to the temperature regulating properties of Merino Wool it will keep you warm in the winter and cool in warmer temperatures. 
2/48 Cashwool® Merino Wool by Zegna Baruffa
27 Gauge 
6cm ribbed cuffs and waist
Weighs just under 250g
Includes luxury dust bag
Made in Italy
The model wears a size M - he is 188cm tall, his chest measures 101cm.
The model wears a size M, he is 188cm tall and his chest measures 101cm.
Our garments are quite fitted, but comfortable. We recommend going with your usual size, based on the table below. If you prefer a decidedly more slim fit, we suggest sizing one down. Please contact us at 
help@filofino.com
or through the live chat if in doubt.
Italy / EU
46
48
50
52
54
56
US / UK
36
38
40
42
44
46
Garment measurements
If you would like to compare with a sweater you already own, here are the actual measurements of the Crewneck and the V-Neck. Please allow for ~1cm tolerance, and please note that knitwear stretches horizontally. 
XS
S
M
L
XL
XXL
A - Chest
cm
48
50
52
54
56
58
in
18.9
19.7
20.5
21.3
22.0
22.8
B - Body length
cm
66
67
68
69
70
70
in
26.0
26.4
26.8
27.2
27.6
27.6
C - Sleeve length
cm
61
62
63
64
65
66
in
24.0
24.4
24.8
25.2
25.6
26.0
D - Shoulder width
cm
40
41
42
43
44
45
in
15.7
16.1
16.5
16.9
17.3
17.7
E - V-Neck depth
cm
17.5
18
18
18.5
18.5
19
in
6.9
7.1
7.1
7.3
7.3
7.5
Still questions?
If in doubt, contact us at
help@filofino.com
 or through the live chat, and we will be glad to support you in finding the right size,
Wool garments in general require less washing than clothes made from other dominant fibres. To maximise the longevity of your sweater, follow these simple but effective guidelines:
Do not to over-wash it; when you do, follow the instructions below

Rest it for at least one day between consecutive wears

Air it or steam it between wears to freshen it up, as needed

Store it correctly when you are planning not to wear it for a while (see below)
Washing instructions
When it is time to wash it, turn your garment inside out and wash it by hand in lukewarm water, using a mild detergent. Dry it on a flat surface at room temperature, away from direct sunglight or heat. Do not dry it on a hanger, as this can modify the shape of your sweater. To iron, set your iron on the wool setting and use steam when pressing. Do not bleach, do not tumble dry.
Alternatively, you may take it to a professional dry cleaner
Long-term storage
Moths are attracted by food stains and body oils, so when storing your garment, ensure it is clean and package it in the cotton bag supplied before putting it away. This will keep moths away (they are not attracted by cotton) while allowing the wool to breathe. Alternatively, store it in an airtight container.
We ship to all countries worldwide using DHL.
Shipping is always FREE to all countries in the European Union, Switzerland, Norway, USA and Canada. Shipping to all other countries is free for orders above 250€, and costs 30€ for orders below 250€.
Orders are processed within 1-2 business days (Monday-Friday) from receipt. Typical delivery times for orders, once shipped, range from 2 to 5 days, depending on the country of destination. 
Orders may be returned for a full refund or an exchange within 30 days from the delivery date. Please contact us at
help@filofino.com
if you would like to return or exchange an item.
For more information, please refer to our Shipping Information or to our Returns Policy.
Our Wool
Our knitwear is crafted from Cashwool® Extra Fine Merino Wool by Zegna Baruffa Lane Borgosesia, the only extra fine merino yarn in the world made entirely in Italy. Spun from fibers with a diameter of less than 19.5 micron, it combines unmatched softness and outstanding durability and is the fine wool of choice for high-end fashion and luxury brands.
 For our sweaters we selected the 2/48 Nm yarn thickness: the finest Cashwool® available.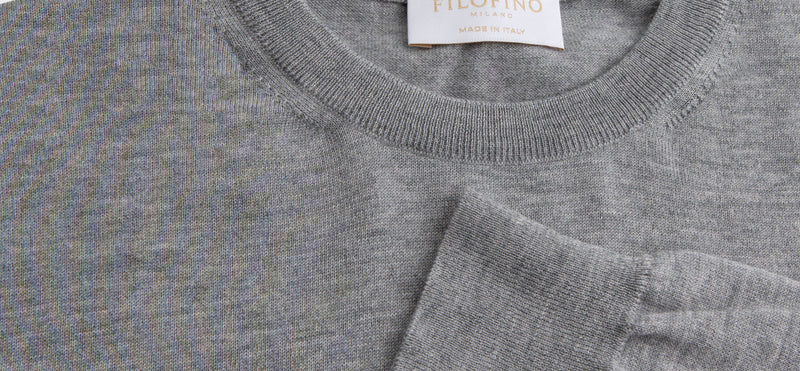 Founded more than 160 years ago, Zegna Baruffa Lane Borgosesia is a world leader in the production of fine yarns for high end knitwear. Based near Biella, the wool capital of Italy, the company has established its leadership thanks to a relentless search for excellence, an unwavering focus on technology and innovation - and by keeping all production 100% made in Italy, from start to finish.

Cashwool® is the company's flagship yarn: launched in 1978, it is the benchmark in the world of fine luxury fine merino wool. Created from a meticulous selection of the best Australian merino wool with a superb level of fineness and pureness, and processed with a proprietary patented system, the yarn combines the unmistakable softness of cashmere with the luminance and shine more typical of silk.

Cashwool® is compliant with the REACH regulation and is Oekotex Standard 100 certified.