Our knitwear is crafted in Umbria, Italy by a family-run workshop of artisans who have refined their skills over generations. Veritable masters of their art, they have been producing some of the best knitwear in the world for decades working with renowned high fashion and luxury brands.
Expertly knit on Bentley Cotton knitting machines from 2/48 Cashwool Extra Fine Merino Wool, each garment is
fully fashioned
, meaning that each piece (front, back, sleeves, trims) is individually knit in its shape before all components are meticulously hand-linked together. The garment is then carefully washed to soften it and enhance its smooth, soft feel, before it is finished by hand into a luxurious enduring knit of exceptional quality.
We employ time-honoured techniques that have been long abandoned by the mass production of today's throwaway culture as each piece requires hours of skilful manual work, an unforgiving level of precision and relentless attention to detail. 


Quality Hallmarks
The quality and finish of our garments are underscored by a number of details that bear testament to the craftsmanship and expertise that go into making them: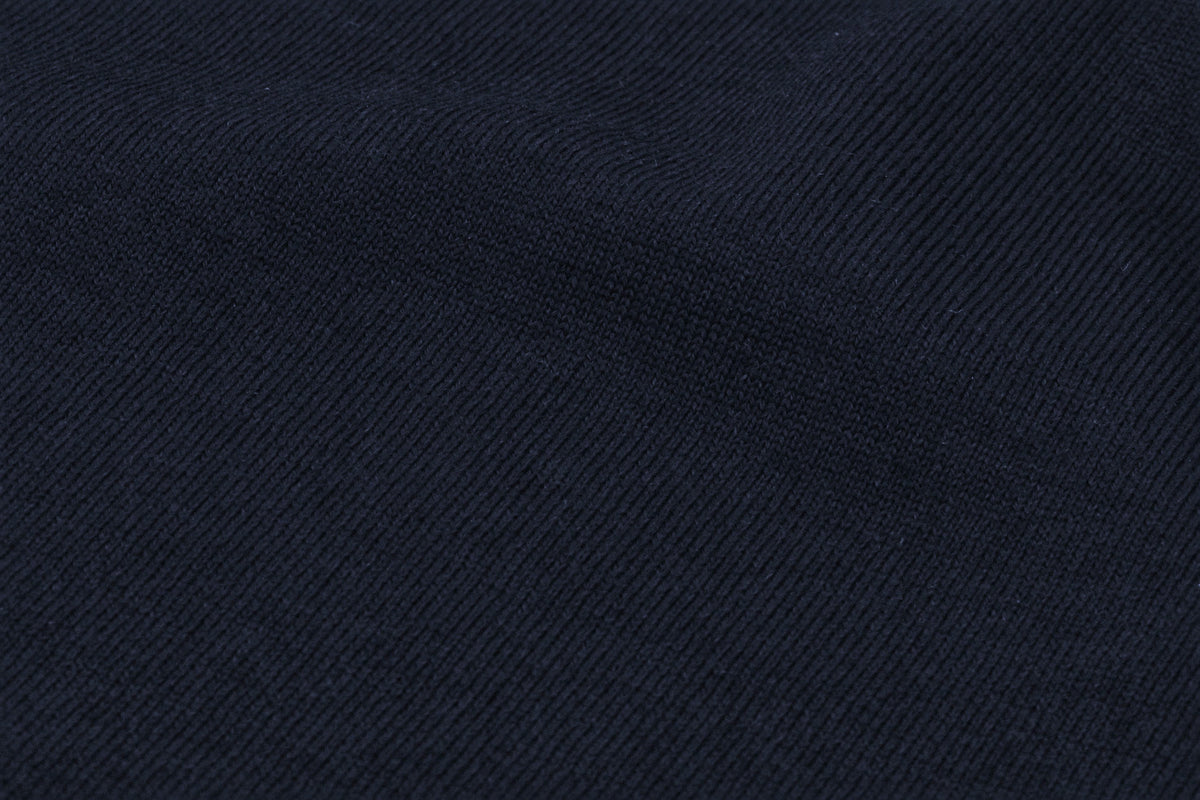 A fine yet dense knit
Our garments are knit with high tension on a straight bar Bentley Cotton knitting machine. Straight bar means that all needles move together during the knit (as opposed to a flatbed knitting machine where they each work sequentially). This, coupled with the fine yarn we use and the 27 Gauge we knit in (i.e. we use 27 needles every inch and a half), results in a knit that is both fine and pleasantly dense, that will hold the shape better and pill significantly less in time.
Fully hand-linked
Hand linking is a laborious, manually intensive process, in which each small loop on the edge of a knit piece (e.g. a sleeve) is matched to the corresponding loop on the edge of the knit it is being linked to (e.g. the body). The rimagliatrice (hand linker) links the loops using a circular knitting machine and painstakingly ensures that each individual loop is correctly placed on a single consecutive needle, paying particular attention that stitches are not overlapped or missed.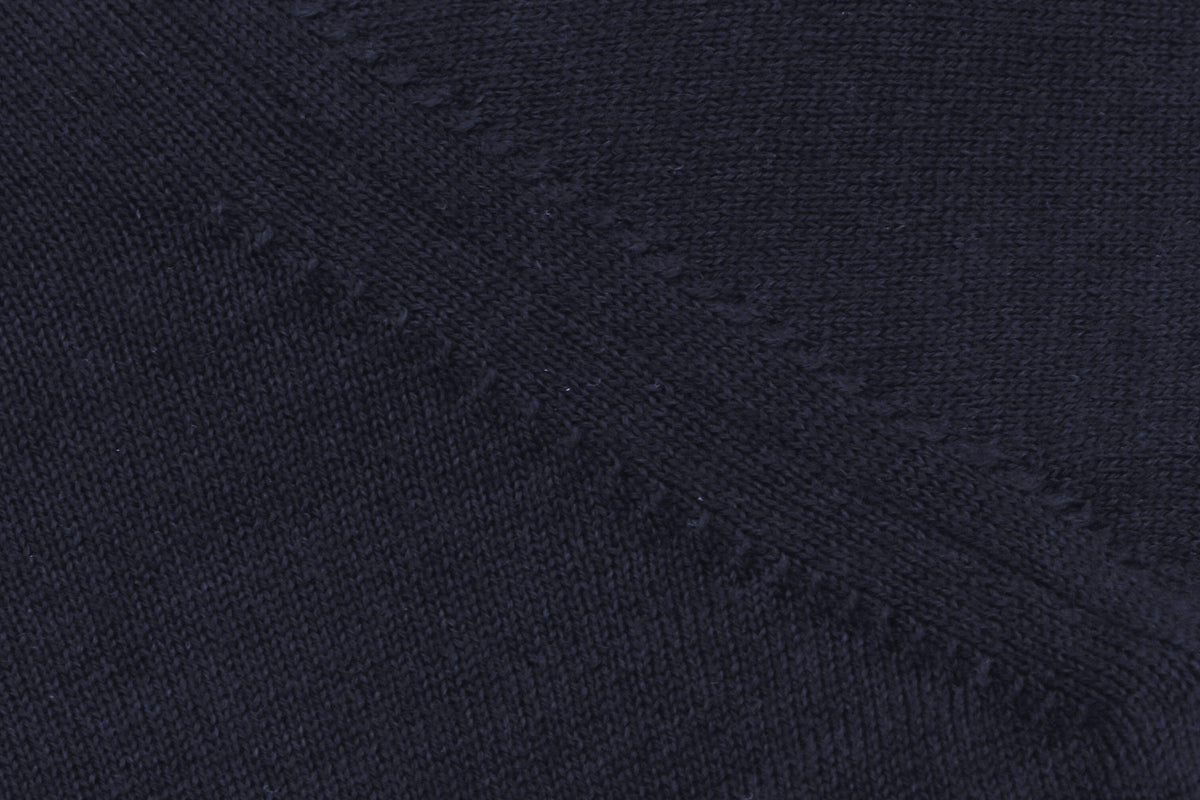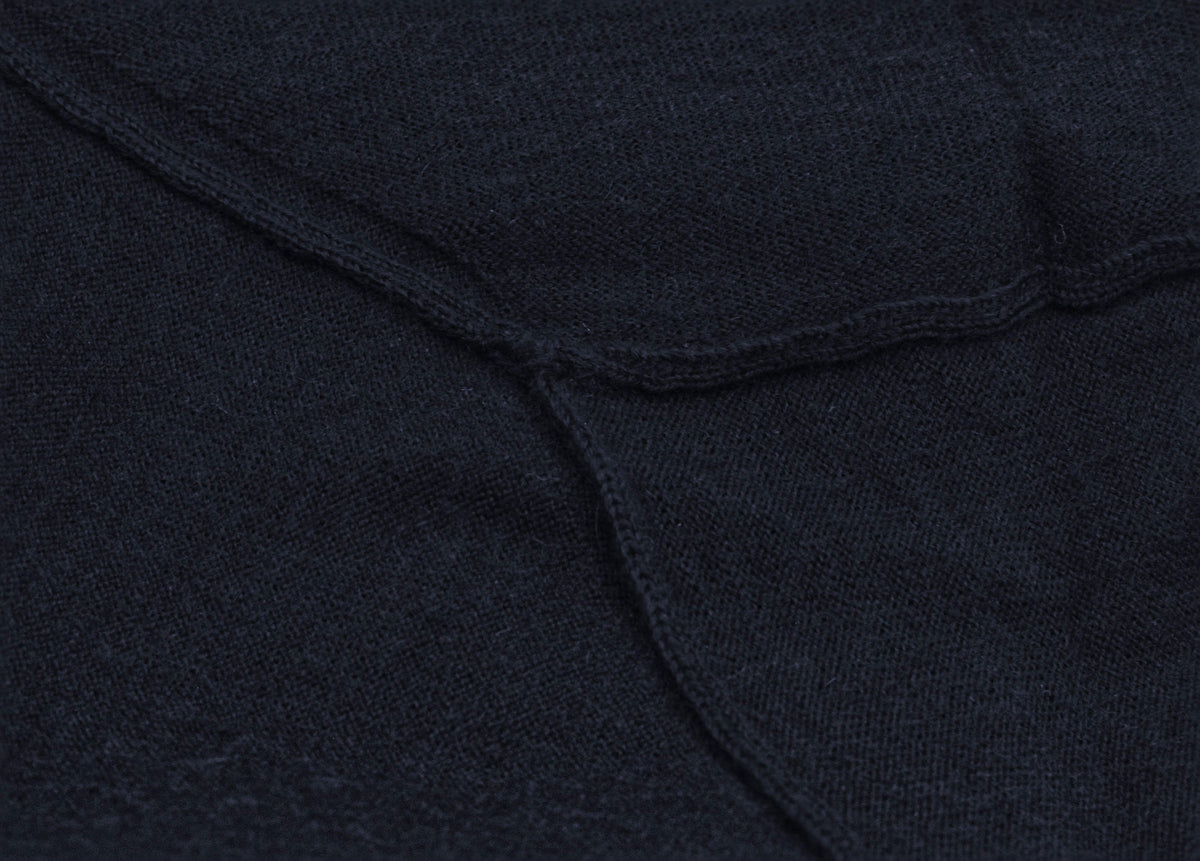 Hand finished
The seams resulting from hand-linking are considerably flatter than in normal knitwear. Still, where multiple seams meet, e.g. where the shoulder and the two sides of the sleeve meet (pictured - the photo shows the seams on the inside), most average knitwear typically has little knots where the yarn is folded back on itself, which can be felt on the body and may even be visible. With Filofino knitwear, this point is flatted out and hand stitched to remove the knot, ensuring the seam stays flat throghout.
'Punta Calata' V-neck
Most V-neck sweaters often exhibit a small but palpable bulge where the tip of the V is formed. This is because the ribbed collar is knitted as a rectangle and the edges folded inside to form the V - this is done to save time and money. In our V-neck the ribbed border is fully-fashioned, i.e. it is knitted with the slanted edges, so there's no extra material that needs to be tucked away - and, consequently, no bulge is formed.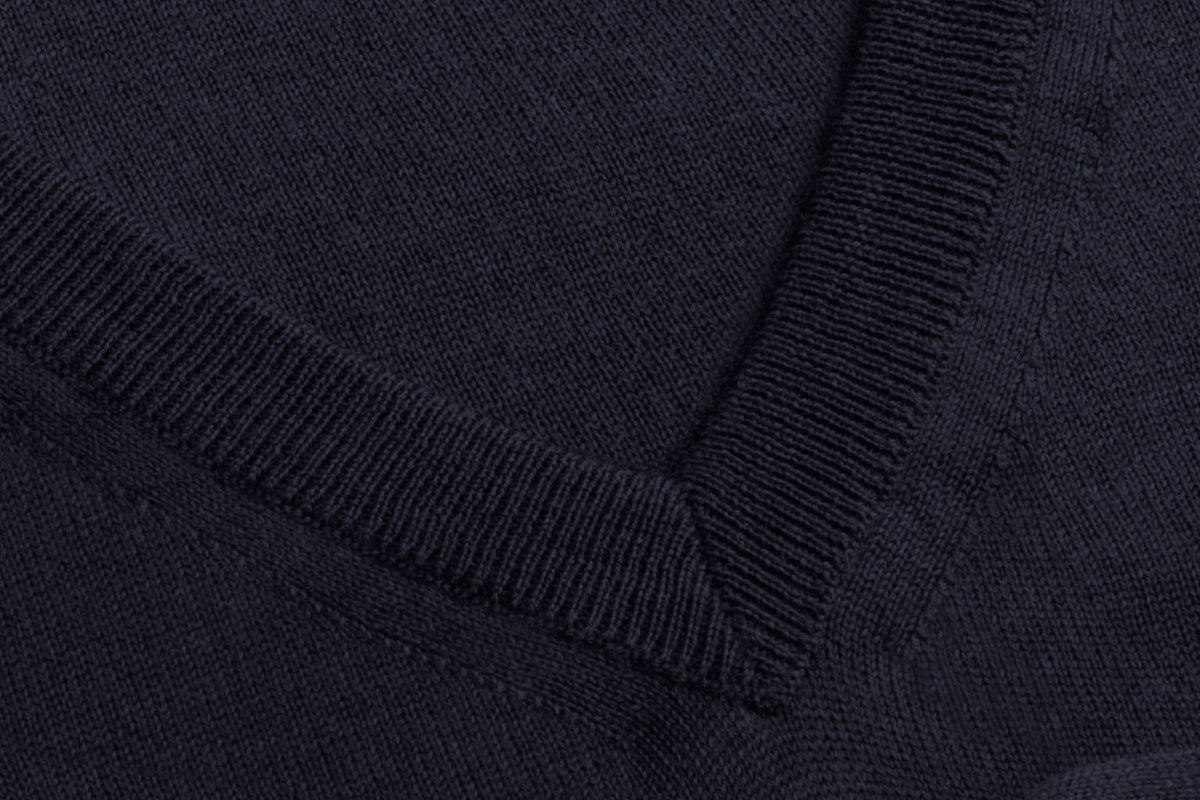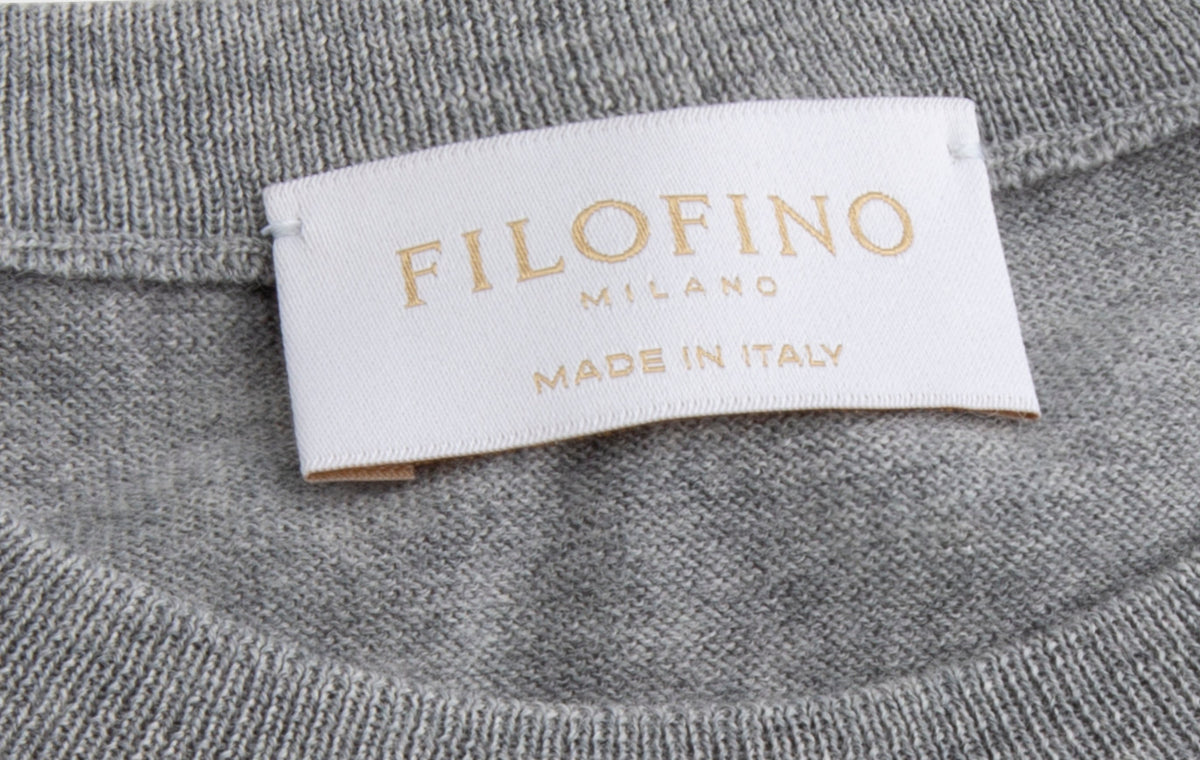 Hand-stitched labels
Our labels are attached with two hand stitches at each top corner. Applying them by hand makes for overall stronger stitches and ensures the the label stays firmly in place for longer.
Our Wool
Our knitwear is crafted from Cashwool® Extra Fine Merino Wool by Zegna Baruffa Lane Borgosesia, the only extra fine merino yarn in the world made entirely in Italy. Spun from fibers with a diameter of less than 19.5 micron, it combines unmatched softness and outstanding durability and is the fine wool of choice for high-end fashion and luxury brands.
 For our sweaters we selected the 2/48 Nm yarn thickness: the finest Cashwool® available.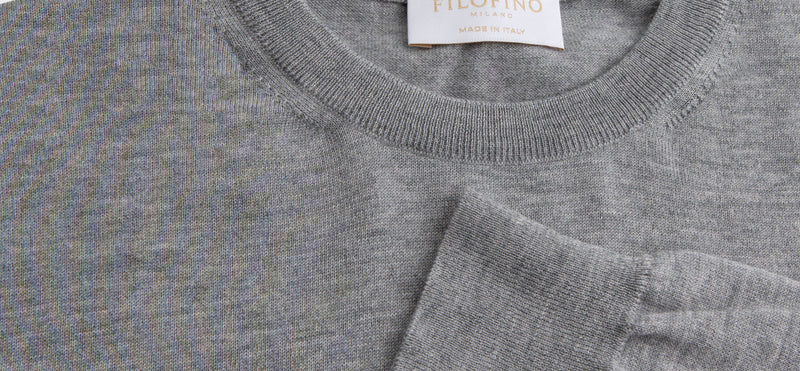 Founded more than 160 years ago, Zegna Baruffa Lane Borgosesia is a world leader in the production of fine yarns for high end knitwear. Based near Biella, the wool capital of Italy, the company has established its leadership thanks to a relentless search for excellence, an unwavering focus on technology and innovation - and by keeping all production 100% made in Italy, from start to finish.

Cashwool® is the company's flagship yarn: launched in 1978, it is the benchmark in the world of fine luxury fine merino wool. Created from a meticulous selection of the best Australian merino wool with a superb level of fineness and pureness, and processed with a proprietary patented system, the yarn combines the unmistakable softness of cashmere with the luminance and shine more typical of silk.

Cashwool® is compliant with the REACH regulation and is Oekotex Standard 100 certified.